---
What is the RCM Mark?
The Regulatory Compliance Mark (RCM) is a mandatory approvals mark for Telecom, Electrical and Wireless products in Australia and New Zealand. It is a combined mark covering EMC, Radio, Telecom, electromagnetic radiation (EMR) and Electrical Safety regulatory requirements.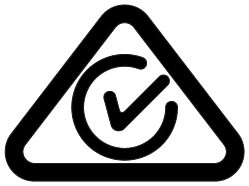 This new RCM Mark was introduced on March 1, 2013 to replace the older C-Tick and A-tick Marks. The RCM Mark became mandatory as of March 1, 2016. For any stock that still showing the older markings can still be legally sold until existing stocks are exhausted. After that the newly imported products must bear the new RCM mark.
How to get the RCM Mark?
The process for getting an RCM Mark for your product is similar to other certification programs such as CE Marking. First we need to do the testing on the product. In order to know what testing are required we need to determine which labeling notice is correct for your product and which standards the product must conform to. Under RCM Marking guidelines, there are four main labeling notices based on product groupings: Telecommunications, Radiocommunications, EMC, and EME. Each notice group has specific technical standards for testing.
Once all testing is completed and passed, and all relevant documentation is compiled, a Declaration of Conformity (DoC) will be prepared. Note for the RCM Mark in Australia and New Zealand, a local representative will be required to sign off on the DoC before the product can be taken to market.
After all of these conditions are met, manufacturers can register their product with the Electrical Equipment Safety System (EESS) database through the ACMA. At this point, the RCM mark is affixed per ACMA guidelines, and the product can be sold in Australia and New Zealand.
My product already has CE Marking, do I still need the RCM Mark?
If your product already have CE Marking certification, it is not sufficient to meet the approvals requirements in Australia and New Zealand. You still have to get the product RCM marked.
Although CE Marking and RCM Marking share some of the same technical requirements, RCM Marking applies explicitly to products marketed and sold in Australia and New Zealand. While some test results and technical documents can be used for both, each applicable product must register for and receive an RCM Mark.
Note some the CE Marking test data may be reused to generate the AU/NZ test reports therefore does not need to repeat the testing. That's why we always suggest to do the CE Marking and RCM Mark at the same time to save cost.
What we do
TianHeng Consulting offer RCM certification services with very good pricing, starting from $ 1,200.00 and includes the following:
ACMA SDoC
National Equipment RCM Registration Record
Proof of RCM Compliance.
Australia Local Rep Service for 5 years.
Please contact us for an accurate quote.